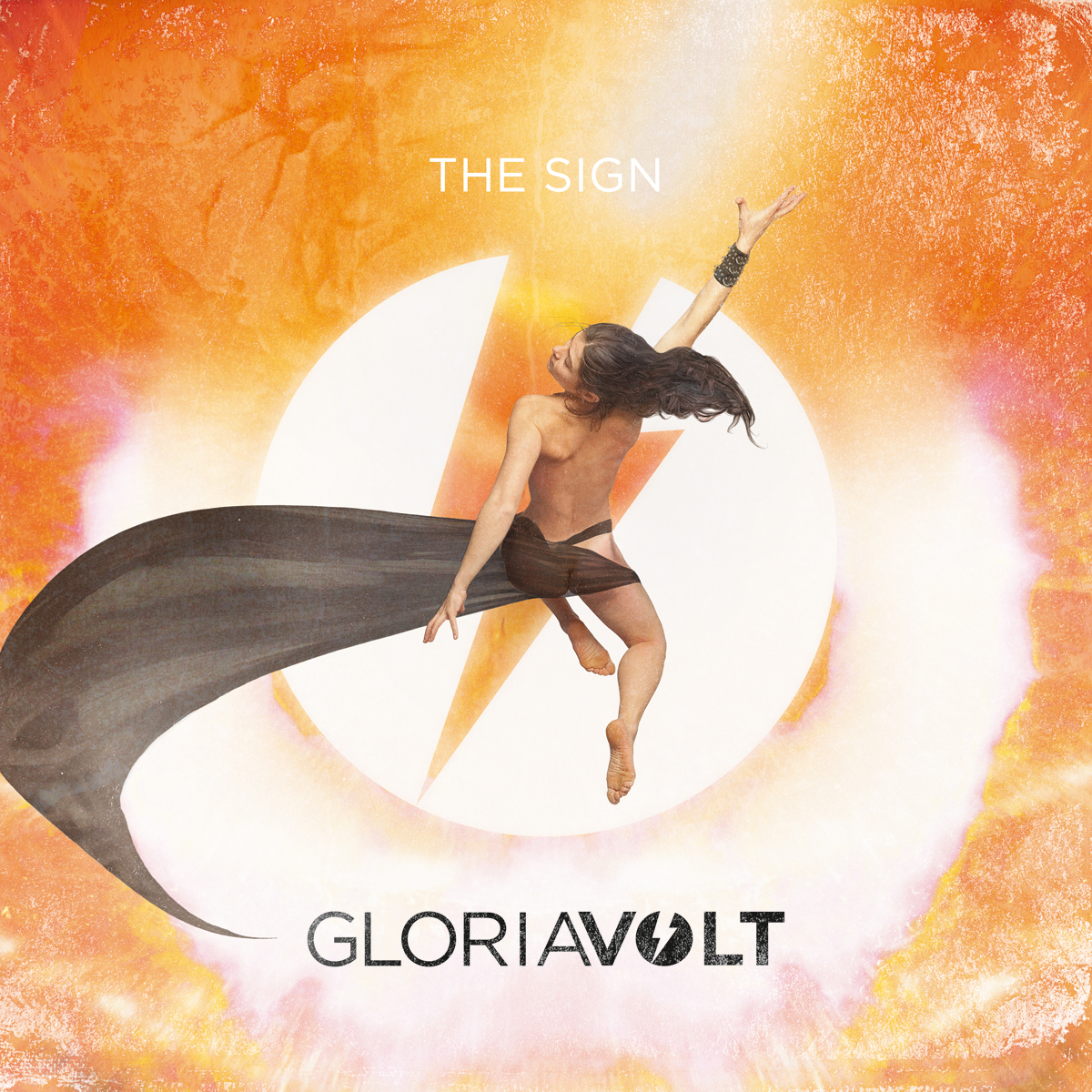 Simpel gestrickter Hard Rock. Schnörkelose Melodien. Keine literarische Feinkost. Aber es ist gerade diese Einfachheit, die in meinem Kopf ein positives Gefühl hinterlässt. Und das ohne bleibende Schäden. Ich rücke noch einmal meine Ohrstöpsel zurecht, sitze auf meine Triumph Thunderbird, ziehe die treibstoffgeschwängerte Luft durch die Nasenflügel ein und drehe den Gashahn ordentlich auf. Freiheit. Easy Rider. Gloria Volt aus Winterthur Hard Rock City.
Als Nichtmusiker versuche ich nun meine Stimmung zu beschreiben und die auftauchenden Kopfbilder zu den einzelnen Songs zu schildern. Mmhh, tönt das nicht ganz anders als ich die EP, die ich im Vorprogramm des The Answer Gigs im Mascotte hören durfte? Nein und nochmals nein. Hard Rock in seiner innigsten Daseinsform wird zelebriert. So simpel ist das. Und ich rechne es der Band hoch an, dass nicht einfach Songs aus der EP in den Longplayer integriert, sondern 9 neue präsentiert wurden. Die Gesamtdauer ist aber mit nicht mal 40 Minuten etwas kurz gehalten.
1) Ride on me
Das Intro aber vorallem die einsetzende Gitarre lässt mich gleich an die gute alte AC/DC Aera denken. Die Häarchen auf meinem Unterarm stellen sich sogleich auf und wippen im Takt mit. Fantastischer Rhythmus. Cooler Track.
2) When The Angels Sing
Auch dieser Song, wie eigentlich alle auf der Scheibe, erinnert im Unterton an die Aussies. Aber der Song ist weit differenzierter als es zuerst den Anschein macht. Etwas schneller als Track No 1 plätschert No 2 zuerst gemütlich den Fluss hinunter und passiert dann des öfteren eine tosende, musikalische Stromschnelle. Fredis Gesang rettet mich vor dem Ertrinken und chauffiert mich sicher ans Ziel. The devil writes my words and the angels sing.
3) Rockin' All Night
Vom Klavier begleitet setze ich den Trip durch das Winterthurer Outback fort. Der Fuss bewegt sich von alleine. Die ganze Nacht. Tolles Gitarrensolo als Pausenbrot in der Mitte des Songs bevor die Unendlickeit des nächtlichen Refrains einsetzt. All right.
4) The Sign
Dreckiger, rotziger Rocksong. Einige Passagen könnten durchaus aus der Feder vom kanadischen Oberrotzer Danko Jones stammen. Wo parkte ich schon wieder meinen 57er Chevy Bel Air Cabriolet. Ich brauche doch meine Heckflosse, mein Zeichen.
5) 10CC
Langsames, nach Sehnsucht schreiendes Intro. Spannend in Szene gesetzt. Man vermutet einen skaninavischen Singer-Songwriter am Werk bevors dann wirklich mit dem Hilfeschrei des Midtemposongs losgeht. Sometimes dreams come true, believe me. Hammertrack der äusserst vielseitig daherkommt.
6) Shout Loud
Song zum Schmunzeln der dem Leben des real Rock n Roll gewidmet ist. Pures WWW-Feeling. Hell yeah, shout it out loud the W'thurer Wild West-Feeling. Der Strasseköter bringt sich mit einem Satz vor der heranbrausenden Motorradgang in Sicherheit und japst einem ausgedörrten Busch hinterher.
7) Exile
Die Sonne steht hoch, die Kehle ist ausgetrocknet. Jetzt muss ein Whiskey Abhilfe schaffen. Der Schleier im Kopf klart auf. Der Drummer gibt den Takt vor und peitscht mich durch den Song wie die Jackeroos das Vieh über die karge Prärie.
8) Rock Child
Für mich das Highlight der Scheibe. Nicht nur weil ich mich angesprochen fühle, sondern weil der Track am Vielschichtigsten von allen ist und sich in und an mir alles bewegt. Am I a rock child? F****** hell yeah.
9) Rock n Roll
Bon Scott wurde vor ein paar Tagen als zweitwichtigster Aussiesänger gekürt. Zu recht wie ich meine. Und trotzdem wird er hier, in diesem tollen Rock n Roll Song, nicht vermisst. Bye bye Bon. Welcome Gloria Volt - We salute you.
Fazit: Eine echte Verstärkung für den Schweizer Rock Zirkus und ein Must Have.
Line-Up
Fredi Volvo - Vocals
Pim Peter - Guitar
Marino Marroni - Bass
Gloria Goodknight - Drums
Lord Latex - Rhythm Guitar
Homepage
,
Facebook
Ihre Einflüsse geben die gestandenen Rocker auf der Homepage folgendermassen an: AC/DC, Quireboys, Judas Priest, The Cult, Krokus, Van Halen, Scorpions. Wobei ich anmerken muss, dass ich hautpsächlich das saftige Kangeroo-Steak heraushöre.
Releasedatum ist der 3. Mai. Plattentaufe ist am 4. Mai im Gaswerk Winterthur. Wo es unsere nächsten Hard Rock Stars als digitale Version zu bestellen gibt, weiss ich noch nicht. Aber am besten schaut man eh an einem der Konzerte vorbei und kauft das Teil vor Ort, signiert und mit small talk.
Der Longplayer *The Sign* mit 9 Songs plus dem Bonustrack *Call Me A Man* aus der EP, Total 41.45 Min, gibt's auf der
Lux.-Noise Soundcloud
Seite in seiner Gänze zu hören oder gleich unten.
Die 2012er EP gibt's auch noch auf Soundcloud zu hören und zwar
hier
oder auch gleich unten im Player.
Ihre nächsten Gigs:
SA 6.4.2013 @ BRUCH BROTHERS, LUZERN W/ MOTORSLUG
FR 12.4.2013 @ HIRSCHENECK, BASEL W/ DOGS BOLLOCKS (THEIR LAST SHOW!!!)
SA 20.4.2013 @ BAUWAGENPLATZ SCHATTENPARKER, FREIBURG (DE) W/ BLACK WIND
FR 3.5.2013 @ OLDTIMER BAR, WINTERTHUR W/ BITCH QUEENS
SA 4.5.2013 @ GASWERK, WINTERTHUR W/ MIRTO MASSAKER, SEXY, MOTHER RAZORBLADE
SA 11.5.2013 @ ROADKILL CAFÉ, MÜNSINGEN W/ FISTY FOUR
SA 18.5.2013 @ HALT AUF VERLANGEN, GRÜNENWALD W/ COPY PASTE, THE SHIT, …
FR 7.6.2013 @ KAMMGARN, SCHAFFHAUSEN W/ ORANGE GOBLIN
SA 3.8.2013 @ OPENAIR, GRÄNICHEN W/ AGNOSTIC FRONT, …
SA 28.9.2013 @ T.O.M., KREUZLINGEN W/ JACK BEAUREGARD & THE SOULS OF THE DEPARTED